How From Kennels to Homes is Helping to Save Dogs in Need
It was Zane's final day to enjoy a sunset. His last twenty-four hours to take in all the scents and sounds of a municipal shelter: Barking, whining, growling. Panting, groaning. Ammonia cleansers, wet dog food.
It was also his last twenty-four hours to hear the excited voices of volunteers walking past his kennel to take out other dogs.
Zane was overcome with fear, too much to even look at anyone chancing a glance in his direction. He and his mates cowered in the corner for days on end. There was no telling what people might do to them.
Not more than a few hours after, Thommy Harley, canine behaviorist and force-free trainer of fifteen years and founder of the nonprofit, From Kennels to Homes, walked up to his kennel door. This time, someone didn't walk past – Thommy turned, stopped and walked straight in.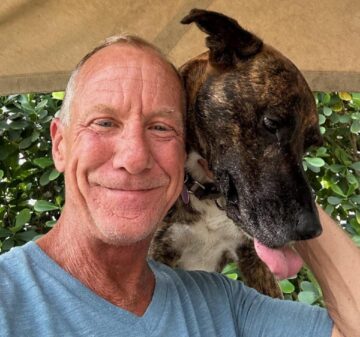 Zane wasn't the sole dog that Thommy saved that day. His two kennel mates found their forever homes:
I remember a specific case. There was a group of dogs that came in, EXTREMELY fearful – I believe it was 3 dogs – it was one of the first cases he helped us with – of the 3 dogs, one of the worst cases I've ever seen in fearfulness – these dogs were completely shut down, in a corner, closing their eyes – if they heard a noise, they didn't even have to see you, if they heard something, their eyes were closed. It was so sad. We were having such a difficult time getting them out of their housing units and exposing them to the elements…we do our best to walk every dog even for a few minutes.
It was a challenge with this particular group of dogs, we couldn't get them out of the cage, they were in their housing units 24/7. It was amazing how his expertise, and his ability to just say, No, I don't care how scared you are and I don't care what's going on, you're coming outside and you're coming with me, and although it was a little bit forceful, we were able to save 2 of the 3 to adoptions. I believe the 3d ended up going to a rescue. That was something that will always stay with me, for sure.
…it was amazing. Our staff was so worried about these dogs, day-in and day-out, they weren't eating, they were in a corner, everyone was so worried…and having that expertise of Thommy coming in and helping us and guiding us with pathways to work with this particular group and actually finding homes…
Michael Leiva, Manager, Community Liaisons Advocating for Winning Solutions (CLAWS) Program, Miami-Dade Animal Services.
In a municipal shelter swollen with homeless dogs and starving from community neglect as Miami-Dade Animal Services (MDAS), Zane and his pals were fortunate survivors.
More dogs came after Zane: Luna and Donny. Then: Rocky and Tucker, Duke, Dexter, and Xena. Dogs melting down from kennel stress, suffering isolation, much-needed training and playgroups. Dogs who were slated to lose their lives early, deprived of all the joys and love to which they were born. Not owing to anything they'd done or occasions of suffering crying out for an end, but owing to being caught up in a system overwhelmed with more homeless dogs in need than resources available.
There were they, and dozens more like them, whom Thommy Harley has saved by showing them the way of love and trust, understanding and patience. Dogs that typical handlers are understandably apprehensive or fearful to handle, dogs demonstrating aggression sufficient to put off the most dedicated of dog lovers.
In a world short on such essentialities grounding our goodness, it was all they needed to turn everything in their favor and give them what a shelter would call, a positive outcome.
What did he do to change the life of Zane and his friends? He took his belief system, that dogs suffering from kennel stress and attendant meltdown are not to be feared, but understood. He looked deeply, beyond the growls, lunging, barking and snarling, to understand what was happening in the mind and body of Zane and his friends:
Fear under the aggression.
If he could reach under the behavior, he could get any one of them beyond the fear and into better behavior. Behavior that would allow others less skilled or experienced to help them further along their way, from the place of homeless dog-at-risk, to beloved pet of potential adopters.
As attorney and animal-rights activist Nathan Winograd shares:
…the very nature of shelters themselves…undermine the mental health of dogs and set them up to fail. At the same time, the temperament tests used to evaluate those dogs are, at best, deeply flawed and thoroughly lack predictive validity. At worst, shelters look for reasons to fail dogs. In short, if a dog is showing behavior issues, including perceived aggression in the shelter, it's rarely the dog; it's almost always the shelter.
(Emphasis added.)
***
It's another sun-washed Tuesday morning in Florida, and months later when Thommy pulls his Ford Escape into the rescue's parking lot. They have pulled Zane out of harm's way at his asking.
Zane is bouncing and wagging about on the grounds. Does he know from where his good fortune came? "That dog completely knows me. When he hears my car pull up, he pulls whoever's walking him in my direction and comes bounding over. It's hard to leave him, but I know he's safe," grins Thommy when asked about Zane. Indeed, for a young Dutch shepherd mix as Zane, Thommy is the one person with whom he could connect to show him the world of love and care. He now has a chance for a loving home, companionship and devotion. Once feral and now on his way to becoming a good canine citizen, Zane is getting to know the world can be a kind and caring place.
That's what Thommy does, and that's who Thommy Harley is. He's been doing is since 2004, ever since he stepped away from the world of managing people to that of managing dogs. Not just any dogs – Thommy reaches out the loving and experienced hand of wisdom and force-free training towards those needing it most – at-risk, unsocialized, terrified and mislabeled dogs.
***
On a balmy February morning, Thommy climbs back into his Ford Escape and drives the hour and a half back to MDAS. He's got a new list of at-risk dogs – mislabeled as aggressive and thus, put on the unadoptable, should be euthanized list by the shelter – on his mind. Some, such as Birdie, a six-year-old Bulldog, have been in MDAS for over two hundred seventy days. She's been suffering the stresses of kennel confinement, incessant isolation and increasing frustration. After entire seasons have passed without interest for a home, shelter staff have all but given up on her.
It's unlikely that Birdie will see the next season.
Thommy arrives with his list of dogs whose behavior must be turned around – or else. As is soon revealed, Birdie is a perfected test dog – a dog to be introduced to less confident and fearful dogs. He leads her down the pathway alongside another at-risk dog, Stargazer, where he and a shelter worker walk side-by-side without incident. Half an hour later, he walks Birdie back to her kennel, bidding her farewell. He writes up his assessment of her and the others on the list. Inhaling a deep sigh, he backs out of the MDAS parking lot, with Birdie and others on his mind. He hopes the shelter can give her more time.
Later that evening, he sends out videos of his work with Birdie and the other dogs to his connections. He's hopeful they'll see her true disposition while away from the stress of the shelter, cacophony of dozens of dogs in need, and neutral ground.
The next day, he reaches out to the foster caring for Persephone, a terrified Labrador mix. The foster is too afraid to go near her and lead her out for a walk, for Persephone is growling and snarling, snapping and lunging.
Persephone's message: Leave me ALONE!
But Thommy wont' be deterred. She needs to be taken outside for all needs biological, and reintroduced back into the world after months of institutionalized kennel confinement. Her foster needs to be able to handle her, else she will be returned to an overcrowded municipal shelter, where she'll be at risk again.
He steps forward, loops the leash around her neck, and leads her gently out of the kitchen.
Several hours and two long walks later, she's quieted down enough to sniff the grounds and ignore Thommy. Her foster joins in. Later, she'll report that Persephone not only wants to leave the kitchen, but insists on walks at the ungodly hour of three a.m.
This past winter, Thommy made three trips to MDAS for the express purpose of saving the lives of death-row dogs. Through his assessments, training, formation of playgroups, and outreach, he has saved the lives of twenty-four of them. In the wake of his visits, he also leaves behind a breadth of knowledge from which shelter staff can benefit:
I truly appreciate the wealth of knowledge Thommy shares with my staff on his visits to the shelter…he is not only impacting the pets in our care but also helping us get better at our profession.
Michael Leiva, MDAS.
***
It's springtime in Florida. Thommy is headed north in his Ford Escape up Interstate 75, destination: Glynn County Animal Services in Brunswick, Georgia. Of particular concern is a staff overwhelmed with fearful dogs, all of whom are showing aggression. As a result, they've been relegated to their kennels for days on end. Incessant confinement isn't helping their stress and chances at the elusive forever home. One dog, Butters, was found as a stray with a chain dangling from her neck. She, too, has been in the kennel for weeks on end. They've called upon Thommy to bring his expertise and talent to their shelter, and help them get dogs out of their kennels.
He walks into the shelter, leash-in-hand, with all the intentions of implementing his proven practices of force-free training. Butters is cowering in the corner. He walks towards her, leash looped and ready to settle over her. She ducks under the kennel bed.
He waits. Then, he tries again. This time, he's successful. Butters's low, hunkered-down body language is infused with fear and dread. Thommy walks her gently out of the kennel, and she walks out alongside him into the light of freedom and out into the shelter playyard. Eventually, she walks proudly upright, confidently at ease. After a time acquainting a shelter volunteer with his methods, he hands the leash over to her. Butters bounds up onto the bench in the playyard, licking him in gratitude.
After he finishes with Butters, Thommy moves onto York, a dog surrendered after a questionable bite incident. In the world of homeless dogs, such unfortunate characterizations are the dreaded scarlet letter. On top of that, it earns a dog an automatic ten-day quarantine, time off the adoption floor and one step closer to an early demise. York has been showing mixed signals to shelter staff and volunteers, earning him more isolation and kennel confinement. He is dying to get out into the playyard, but no one is willing to take him there.
Thommy repeats his efforts with York: Opening his kennel door, he calmly steps in. York jumps up on Thommy, hugging him with his front legs. He is over-the-moon to have an opportunity for time out of his kennel, for the first time in weeks. People have been afraid to take him outside. As with Butters, he was passed over for playyard time, not unlike the unpopular kid passed over on a high school soccer team. Together, they trot out into the green open space and into the opportunities for safe acceptance, socialization and exercise.
Filled with a sense of satisfaction and purpose, Thommy mounts up into his Ford Escape after a long day of working with the at-risk dogs. His day of dedicated force-free training, rehabilitation, socialization and organized playgroups has benefitted at least twenty-five more dogs in the Glynn County Animal Shelter, giving each one a better chance of success at the elusive forever home.
Not only has he benefitted the dogs, but his ritual leave-behind of a wake of knowledge lingers long after he's gotten the highway to head down south:
[Thommy showed us] the walk togethers, a good technique to work on confidence building…
[He showed us] play groups in the play yards…more confidence building…Walk bys…to get to a place where you could take [the dog] for a walk and run into another dog with no issues arising, and dog enrichments…
I learned so much from Thommy…he equipped us with some new tools and tactics. He did all of this out of the goodness of his heart and on his own dime. He did not ask for a thing.
Glynn County Volunteer Caroline Blackshear
***
The practice of taking a homeless dog out of his or her kennel and into the world of opportunity for exercise and play isn't one that many underserved shelters can manage. Lack of training, economic resources, volunteers, community support and involvement contribute to a dearth of support for vulnerable dogs in need of a safe place to land. Hundreds suffer from resulting kennel stress, the complications of which become one of the principal reasons that strong, often young, high-energy dogs are at risk for death-by-shelter:
Dogs are being labeled as "aggressive" (and, as a result, killed) by shelter staff employing methods that fail to take into account several critical factors; namely, that dogs under duress in shelters often act in ways that are dissimilar to their behavior out of one; that the shelter environment itself—loud, stressful, with inappropriate housing, strange smells, and lacking adequate socialization—can cause the behavior or prevent full rehabilitation; that dogs have experienced a recent trauma (including separation from their families) which can temporarily impact their behavior; that there may be a medical origin for the perceived aggression that is not taken into account; and that there are other possible solutions and alternative placements in lieu of killing.
Nathan Winograd, Id.
Not only does Thommy provide a pathway forward, he shows shelter staff and volunteers how to continue his rehabilitation and training programs, so that they may apply it to others longer after he's left the shelter for home. He facilitates critical dog introductions, to open pathways for adoption with hesitant potential adopters:
Thommy's passion is breaking labels. We got to learn, witness, and participate in exercises that will benefit the dogs while they are at the shelter and better prepare them for being placed in a home!
Glynn County Volunteer Caroline Blackshear.
Who else is on his list to help save? His work has been called for in North Carolina, in places where well-meaning volunteers struggle to bring feral dogs out of the world of confinement and into that of engagement and learning. He'll share about them with fellow dog lovers, increasing their chances at the elusive forever homes as with Em, a feral dog with Old Cowboy Rescue, a terrified feral Pittie mutt who wouldn't leave her kennel for days on end, with all the optimism befitting a high-level leader. He has rescues on his mind in Texas, a high-euthanasia state where even the best-behaved dog in a shelter is at-risk for reasons of overpopulation. His goal, always:
Increase their chances of success for a forever home. It's all about the dog.
Do his training methods work? Are his techniques valid? Is his time worthwhile? Just ask the twenty-six dogs whose lives he has saved this year, the twenty-five he's helped in Glynn County, and the dozens more in the training and rehabilitation queue, all owing to one man's undeterred, committed, knowledgeable and lifesaving efforts, to train and rehabilitate the South's at-risk behavior dogs.
Want to help support his efforts? Click here: Save Death Row Dogs.